The Clergy Card Specialists
A little bit about us. We have been trading since 2000 and have also been selling to Christian bookshops and churches for 2 decades. As professional designers we try to mix as many styles as we can to cater for all customer's individual needs and we really do care about our cards. We like to think this wealth of experience shows in our love of colour and creativity, experimenting with fonts and photography to bring the best selection to you from Christian Birthday Cards to anniversary cards for priests and nuns.
Selling independently for over 20 years, we have now worked in the Christian Marketplace for almost 30 years. We have so much experience to bring the best quality selection to our customers, all over the world.
Although known as The Clergy Card Specialists, we have Christian greeting cards for all occasions. So you will find all your perfect cards from Christian Sympathy Cards to something more specialised, like Deacon Ordination Cards, Cards for a New Canon and Priest Golden Jubilee Cards.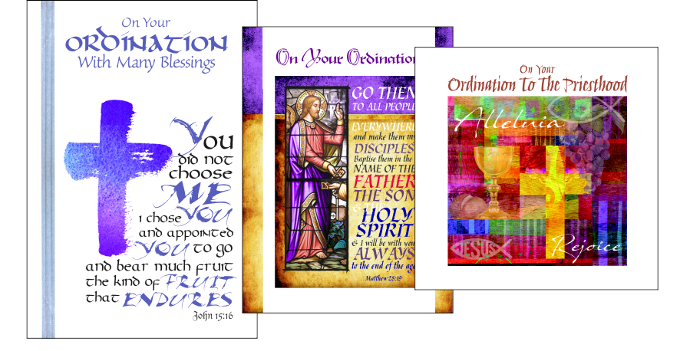 CARDS FOR ALL CHRISTIAN FAITHS
You will find many different occasion cards in our clergy card section from Catholic to Church of England faiths. We have a varied selection of Feast Day cards for nuns, like this lovely rose design with a Scripture quote from 2 Corinthians 2:14 on the front 'God uses us to make the knowledge of Christ spread everywhere like a sweet fragrance.'
There are good selections of Reader Cards too and Licenced by the Bishop Cards like this symbolic collage design. A lovely card to send to a friend or church member.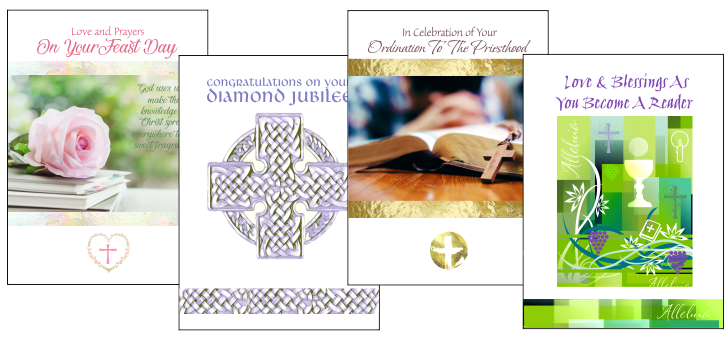 SYMBOLIC NEW DEACON AND DIACONATE CARDS
We have a choice of wording on these cards as some like to see 'Ordination To The Diaconate' on them and others are just as happy with 'New Deacon'. Whatever wording you prefer, you will find a good selection in our online store along with many other clergy card specialist occasions.
Stained glass images and mosaics are always popular choices - vibrant colours mixed with church symbolism and ideal designs for New Deacon cards. This watercolour grapevine image with Scripture text is one of our best sellers and is a larger A5 size card. The calligraphy verse is from John 15 and is such relevant text for Ordination To The Diaconate Cards.

ORDINATION TO THE PRIESTHOOD CARDS
A priest ordination is such a very special occasion. Our cards reflect this and we have such a large range of beautiful, quality cards befitting of such a wonderful celebration. Some have ribbon detail to make the cards look extra special and many have colour picture inserts to match the front of the card. We also do some larger cards for multi-signing too. The cards feature creative calligraphy and professional photography or symbolic paintings both traditional and contemporary to suit all ages and tastes. Whatever you have in mind, we are sure you will find it in our Ordination Cards section - quality cards from the Clergy Cards specialists.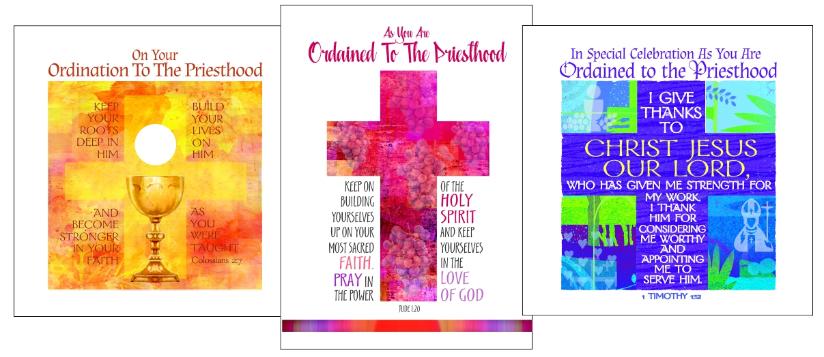 Anniversary of Ordination Card Landmarks
Our Priest Jubilee and anniversary of ordination landmark cards will have you spoiled for choice, from 25th to Platinum Jubilee Cards. Is you parish priest celebrating their Diamond Jubilee? This blue Celtic cross design will be much appreciated. Are you looking for a Ruby Jubilee Card for a special religious sister? They will be more than happy to receive this lovely Celtic cross knot design, set on a watercolour poppy background. Are you looking for a 25th Anniversary of Ordination card ? This modern cross calligraphy design will be just perfect for them, with a Scripture quote from 1 Timothy 1:12 incorporated into the design. You will find these and so many more lovely cards in our secure online store.